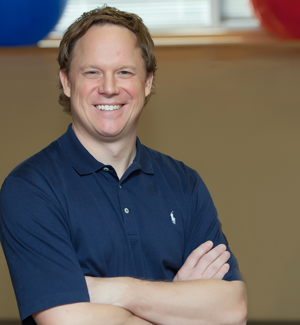 Sometimes the best technology and the latest science is necessary to cure what ails us. Other times, the answer can be as simple as a foam roller.
Almost anyone that goes to the gym, physical therapist, physical trainer, or chiropractor has seen a foam roller sitting in the corner. Many times, it will remain lying there, unused—because people don't know how to use it properly, or perhaps they don't even know what it is. A foam roller is typically a long, white tube made by one of various different companies. The brand of foam roller that we use at Tulsa Spine and Rehab is Trigger Point Therapy. Foam rollers are usually somewhat dense and don't have much give to them. They can come in various different shapes, sizes, and colors.
The purpose of a foam roller is to break down adhesions or increase flexibility/mobility. Basically, it can be thought of as a very cheap form of massage. Many patients will visit a massage therapist because they want soft tissue release, to help loosen up their muscles, or to increase flexibility. Instead, one of these foam rollers can be purchased for around $35 or less. They can be used at home as often as needed to provide the same results.
Here's a quick physiology lesson: A thin layer of tissue exists on top of muscle, called fascia. In healthy tissue, the fascia slides back and forth easily. In areas with trauma or injury (or most commonly, overuse), that fascia will develop adhesions or tightness. Stretching will not be of any benefit. Imagine trying to stretch a rubber band that has a knot tied in it. You're essentially just going to tighten the knot even further. The foam roller actually unties that knot by decreasing the adhesions in the fascia. The fascia will begin to function properly, which will increase mobility. After using the foam roller, you can work on some self-stretching techniques or other similar treatments.
It can be difficult to use foam rollers in the beginning because any tight points throughout the body will be exposed. Persistence will be rewarded, however, since the areas that are most uncomfortable are typically the ones that need the most work. The mid-thoracic (mid-back) area is a common point of weakness for people who sit at a desk for extended periods. This is probably the top reason that we use the foam roller here at Tulsa Spine and Rehab. The area between the shoulder blades also becomes rounded off from sitting at a desk or using a computer all day. The roller will be helpful with relieving that adhesion, which can sometimes feel like a crack or pop. That feeling means that the spine is opening up a bit, which is a good sign.
Secondary to that, we often see athletes and non-athletes alike with IT (iliotibial) band dysfunction. This involves the soft tissue on the outside of the leg. Over time, runners can experience a buildup of tightness that leads to knee injury. Even though someone might be asymptomatic, the roller can still be useful. Hamstrings, hip flexors, and calves are other areas that are often affected. Most patients will be advised to stay off the low back area due to these areas of dysfunction. The roller can be used effectively on the hips, outer hips, glutes, hamstrings, hip flexors, and the mid-back area as well. It can even be used to provide some stress relief.
One great thing about Trigger Point Therapy (the company that provides our foam rollers) is their concise instruction manual. Many companies that make foam rollers will provide a simple manual that makes the process of using a foam roller easy to understand. Patients will have an easy time determining how much pressure must be applied to the apparatus. A chiropractor or physical therapist is also a good way to get started. Professional guidance allows anybody to use a foam roller effectively. Additionally, there are many useful online resources that can provide instructions for proper use. Foam rollers can ultimately result in a wide variety of benefits, including preventing common injuries.
Tulsa Spine and Rehab has the best technology and trained professionals to address your aches or pains. Contact us today at (918)743-3737.
Listen to the podcast of this post here:
022714

Podcast: Play in new window