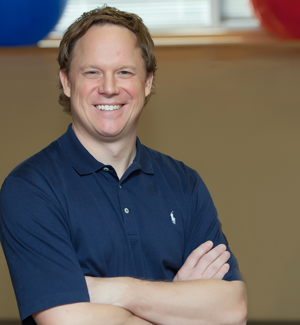 I'm a 35-year-old man who is healthy and active, but I'm losing flexibility. Can you do anything to help?
I hear this question often from people that play golf and go jogging with me. They are in their mid-30s and mid-40s, and they notice the aging process creeping up on them. It takes a little bit longer to get out of bed and make other transitional movements. Our brains may tell us that we have not changed since we were 18 years old, so we will still participate in sports and weekend activities. However, recovery that used to take two days has now doubled to four.
We can actually mitigate decreased flexibility by performing simple flexibility/mobility exercises. Having a tailored plan or program can be especially effective. These simple exercises increase flexibility/mobility, shorten recovery time, and make you feel better when getting out of bed. They can also help prevent injury from occurring, which is a major benefit.
By visiting a chiropractor or physical therapist, we can assess your limitations and create an individualized treatment plan. It is important to devise specific exercises, because everybody has different limitations.
For example, with patients that spend extended periods sitting down, we will try to increase flexibility in the area between the shoulder blades. If patients have limited hip mobility with decreased internal/external joint rotation, we must typically focus on the low back. We can create an exercise plan that takes less than ten minutes and requires no special equipment. Performing these exercises on a daily basis will result in increased flexibility and keep patients from having to visit our office as frequently.
We can empower patients to have the tools they need so they can manage symptoms on their own. Many times, when patients develop stiffness or tightness, they will be given self-treatment drills that make them feel better. When they are stiff or in pain, they can simply do some of these exercises on the living room floor. Besides foam rollers, which are extremely useful, no additional equipment is required.
As people age, they will begin to develop degenerative changes such as arthritis. Spaces that were thick and healthy while they were younger will begin to narrow and thin out. Of course, if they were to develop sharp pain that shoots into the arms or legs, it could potentially be something more serious, like a herniated disc or spinal stenosis. In that case, I recommend visiting a physician to get it checked out.
If you simply feel yourself waking up in the morning with an achey, stiff low back after playing sports, that is a good indication of age-related degeneration. When you notice that the recovery process is extended, and flexibility is gradually decreasing, these are signs of age-related limitations. We guide patients through functional movement screens where they flex, bend over, touch their toes, and extend/rotate their arms. These movement screens will let us know of any limitations in mobility. We can then develop a set of recommended exercises.
If you have a question for any of the specialists at Tulsa Spine and Rehab, you can reach us through the contact tab or call us at (918) 743-3737.
Listen to the podcast of this post here:
TSR140626

Podcast: Play in new window