Achieving stability, mobility, strength, and flexibility often calls for a variety of treatments. That's why we offer treatments from a variety of disciplines from chiropractic care to physical therapy to Ayurvedic Medicine, clinical massage and yoga. Our services include:
---
Ready to be done with back pain? Download our free report.
24 pages of what everyone should know about the causes and cures of back pain—but probably don't.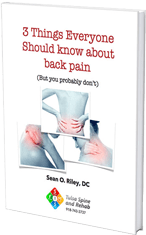 • Understand back pain
• Prevent back pain
• Treat back pain
It's free. Get yours and get moving.