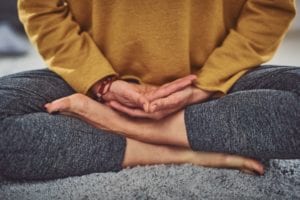 Yoga is about creating space; space in our bodies, space in our joints, and most importantly, space in our minds. Our hyper-active culture is packed with checklists, personal and professional obligations, and tending to social calendars leaving our bodies aching with stress, our joints stiff and cranky, and our minds in a constant state of irrelevant and anxious chatter. Tulsa yoga therapy will help you find that inner peace and mental stability we need in our every day lives.
Yoga helps. A personal session is all about you; your goals, your challenges, your health, your needs. Whether you are seeking stress reduction techniques to take to the office, seeking feedback on form to support your current activities, or are brand new to yoga with a list of questions – scheduling private instruction provides an opportunity to recalibrate your relationship with your body and mind.
How Tulsa Yoga Therapy Works
Studies indicate that a therapeutic yoga practice can relieve stress, lower breathing and heart rate, and reduce blood pressure. A consistent practice can also decrease pain as well as anxiety, depression, and insomnia. While the physical practice of yoga has the ability to produce a sense of lightness and ease, it is by establishing a daily habit of stillness that we can cultivate true inner peace, contentment, and joy.
What You Can Expect
Our goal is to create an environment in which you feel calm, supported, and safe. Using the many tools of yoga (philosophy, asana/poses, pranayama/breathing, and meditation) we will design a practice to fit your schedule and needs that will complement any work you may be doing with our Tulsa chiropractors and physical therapists. We can increase flexibility, we can build strength, we can explore a shoulder-safe downward-facing dog. Breathe, rest, repeat.