#1 in Tulsa, OK for Chiropractic Therapy
Getting pain relief can mean multiple appointments with multiple specialists (not just Tulsa chiropractors). Why take time going office to office to office? We give you a better way: one team of specialists in one place, working together, streamlining care, providing lasting pain relief.
"Not your ordinary chiropractor. They provide a thorough diagnostic, clinical massage therapy, adjustment & physical therapy. My pain reduced 50% first day, 75% the second. After the third, I am good to go! Thanking the Lord my physician referred me!"
"1st class service and unbelievable results. Never felt so strong."
"The people here really care about their patients and work to get them fully functioning again. It's a really awesome place with genuinely caring people."
"I was in desperate need of help and these people came to my rescue! They can fix anything. Thank you so much Ryan and Sean."
"Dr. Riley's staff is out of this world. I was truly impressed with everyone from the front desk girls like Courtney, to their masseuses, Ryan & Derrek and, of course, Dr. Riley himself. Would recommend to everyone I know."
"I've been to many physical therapists & chiropractors over the years. The Doctors & employees here have helped me beyond my greatest expectations. The service, friendliness of the staff, expertise of the doctors is the best in Tulsa (in my opinion). Dr. Riley & Dr. Radloff have done wonders for me. I am so thankful."
Why Tulsa Spine and Rehab?
How to choose the right Tulsa chiropractor
That's a question that I've been asked quite frequently over the years. I always tell people that it's important to use your available resources, and in this day and age, that means getting online and using the web.
Check for Reviews
You want to see what other patients are saying about the clinic, the doctor and the staff. Just like buying a book on Amazon, reviews are readily available, and can give you an idea of just what others have been experiencing from a chiropractic office. You should try to gather as much information about the clinic or the doctor as you can.
Do You Really Need a Tulsa Chiropractor?
As you do your research, look for an office that uses phrases like self-empowerment, self-management strategies and activity modification. Your goal should be to reduce office visits by reducing re-occurrence of your injury. Patient education is important. If you learn how to help yourself, you won't be relying on repeated visits to the chiropractor just to get through your week!
How Involved Should I Be In My Diagnosis and Treatment Plan?
It's important to know what your problem is. The experience you don't want is to go to a chiropractor, or physical therapist or a physician and leave and you're still unsure what the problem is. You need someone who will make it a priority to sit down and come to a good understanding and a good report of what the issue is and how we're going to fix it. How long is it going to take?
It's important to have a really solid diagnosis. And if the professional is unsure, it's appropriate to make that referral at that time to someone else that might be more prepared to treat that condition.
A Treatment Plan With Measurable Goals
Any good treatment plan must have goals, timelines and specific metrics to achieve. What you don't want is to wake up 6 months from now in a therapeutic "black hole" with no end in sight.
Our approach is typically about 4 to 6 visits…not with everything, but that's the most common. All conditions are going to be a little bit different. We want to see changes within a week or two. I'm not saying that the situation is going to be resolved, but we want changes. For example, sitting or standing without pain or pain levels decreasing steadily…measurable things. We'll set up a plan for a few weeks and re-evaluate on a week-to-week basis
Be wary of an office that offers a treatment plan of 3 visits a week for 10 weeks. How do they know that it will take 30 visits to fix your problem? They don't.
Look for an office that recommends effective and efficient treatment plans and re-evaluate you as you go, to make a better determination of what you need.
Summary
Do your homework. Get online. Check for reviews. You want a clear diagnosis, an effective efficient treatment plan. Not every patient will find relief in 4 to 6 visits, but be wary of those long, extended treatment plans.
Most importantly, look for offices that are going to empower you with the knowledge of what you can do as a patient to help yourself!
Adaptive chiropractic therapy focuses on your needs maximizing pain relief, improving function.
Customized treatment programs designed to overcome challenges, helping you live pain free.
Massage reduces stress and pain, corrects posture, eliminates toxins and improves movement.
An integrated team of specialists in one place helping you get moving.
Cryotherapy triggers your body's natural biological regeneration reducing chronic pain and fatigue.
Comprehensive attention from our team of specialists, provide a specific healing plan.
YOUR INTEGRATED PAIN RELIEF TEAM—ALL IN ONE PLACE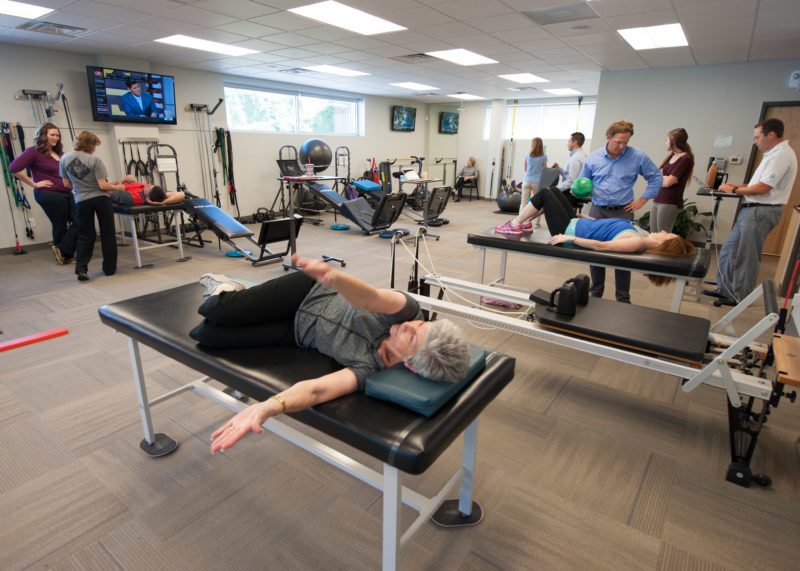 Remember a time before pain ruled you life? There will be a time without it again. We help people like you get moving again. Our integrated team of pain relief specialists and chiropractors in Tulsa work to help you enjoy lasting relief and get your life back again, pain-free.
The Help You Need
In One Place
Lasting pain relief doesn't have to mean driving all over town, juggling appointments and commitments. We make it easy: The help you need from specialists working together under one roof. We take pain out of your life and out of your schedule too.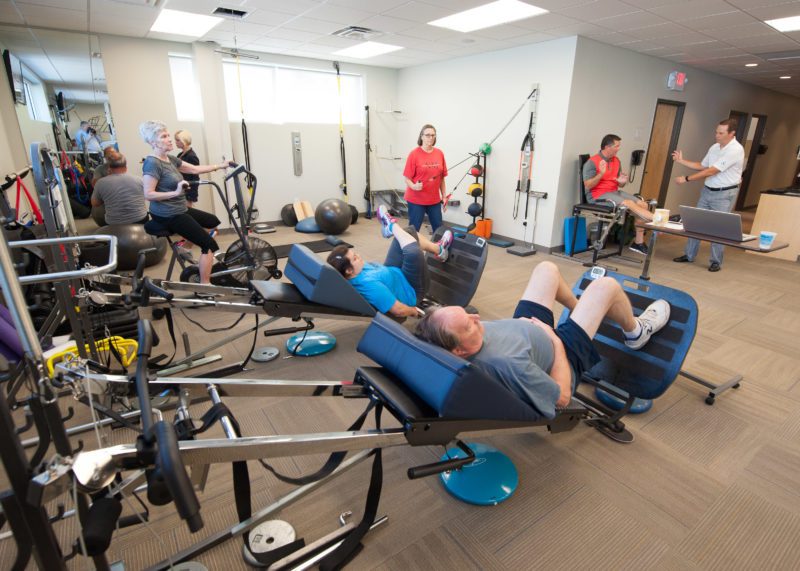 This isn't like any other Tulsa chiropractor office. No open-ended treatments. We have a better idea. From your first visit, we're looking forward to seeing you go. Because we'd rather you have a full life than us have a full waiting room.
Your Tulsa Chiropractor and Pain Relief Specialists
If you have been in an accident or have suffered an injury from sports (or just everyday life), you may need help with pain and recovery. At Tulsa Spine and Rehab, we have the resources and experience to get you back on your feet. We are a Tulsa chiropractic clinic and rehab facility that offers a variety of services so that you don't have to make multiple appointments at different places. Our team can tackle all of your pain needs.
Learn More About Chiropractic Treatment
Most Popular Articles & Podcasts
What does a Tulsa chiropractor do?
Chiropractors use manual manipulation of the musculoskeletal areas of the body, including the spine, for proper alignment and functioning of the body's systems. Most frequently, adjustments occur in the spine and involve the surrounding muscles and the related areas of the nervous system.
In addition to providing traditional chiropractic care, look for Tulsa chiropractors who use an integrated approach while working with multiple disciplines to provide lasting relief for your continued overall wellness.
What can chiropractic care help with?
While chiropractic care typically involves the relief of pain from a debilitating condition or injury, this treatment can also provide you with the following benefits:
Stability
Flexibility
Mobility
Function
Strength
What type of conditions can chiropractors treat?
Chiropractors are mostly known for treating conditions that result in pain. Pain management often involves the use of chiropractic treatment since ligaments that connect to joints can become tight or damaged from overuse or injuries, shifting the bones slightly out of their proper position.
Chiropractic care has been proven to be effective at treating multiple conditions, just a few of which are discussed further.
Back pain
Perhaps that most common reason that you might seek chiropractic care is due to back pain. Back pain may be a result of arthritis, pulled or strained muscles or injuries to the spine.
Scoliosis
When the backbone is curved sideways in the case of scoliosis, chiropractic adjustment may help to readjust the ligaments so that the vertebrae in the spine can align in the proper position.
Sciatica
Pain that radiates from the lower back or buttocks and through the hips or legs is often the result of compression of the sciatic nerve. While sciatica may resolve itself over the course of several months, recovery may be shortened through chiropractic manipulation of the spine that may reduce pressure on the affected nerve.
Accidents
Slips and falls as well as motor vehicle and sports accidents may result in injury to the spine, neck or other joints. Any damage or injury to the musculoskeletal system may be helped through the use of chiropractic treatment methods.
Migraines
If you've ever experienced a migraine, you know how debilitating this type of headache can be. Research is finding that chiropractic treatment can be very effective in the treatment and prevention of migraines without the use of medications that could have serious side effects.
Other conditions
Several other conditions may benefit from the use of chiropractic care:
Asthma
Bursitis
Chronic fatigue
Fibromyalgia
Gastrointestinal issues
Multiple sclerosis
Pre-menstrual syndrome
Tendinitis
Do chiropractors really crack your neck?
When you think about the word crack, it typically means to fully or partially break something open, such as when you're cracking an egg. However, when it comes to chiropractic care, your provider isn't actually breaking anything.
Cracking is simply a term that is commonly used when you manipulate ligaments surrounding joints. The reason this term is used is due to the sound that often occurs with such joint adjustment.
The crackling or popping sounds may occur for a couple of reasons. Joints contain fluid and several elemental gases. These gases collect into bubbles. When your joints are manipulated, the small but concise movement releases these trapped gases, resulting in a popping or crackling sound.
In other cases, noises may be heard as a result of tight ligaments or tendons releasing or due to arthritis. The reason the crackling appears to be so loud during a neck adjustment is simply because your ears are located very closely to this area.
When should I see a chiropractic care provider?
Whether referred for chiropractic treatment by your primary care physician or as a choice you've made on your own, there are times when it just makes sense to visit a chiropractor's office.
Chronic back pain
As long as your pain issue isn't caused by advanced degeneration of the joints, you could benefit from chiropractic care to help resolve long-term or chronic pain issues, especially when previous treatments only mask symptoms and don't alleviate the root cause of the pain. Additionally, if pain is caused by slipped, ruptured or herniated discs, you should determine if chiropractic care could do more harm than good.
Joint or muscle pain
Many times, muscle or joint pain can be caused by improper alignment of the musculoskeletal system. A chiropractic care provider can help to determine what treatments will best return alignment, proper blood flow and better nervous system functioning.
Accident or injury follow-up
As long as no bones are broken, many chiropractors have extensive experience in helping patients to regain their mobility and function following an accident.
Unexplained shooting or burning pains, numbness or tingling
The musculoskeletal system can dramatically affect the functioning of your nervous system. If there's pressure on nerves, this can result in shooting pains or a pins-and-needles sensation. With proper adjustment, pressure on nerves can be released to provide relief from your condition.
Frequent headaches
If you experience migraines or tension headaches on a regular basis, it might be because your body is out of alignment. Chiropractic treatments can release the buildup of pressure to reduce tension and prevent recurrent headaches.
Weakness in your arms or legs
Weakness in your limbs that results in unsteadiness or inability to effectively complete your daily tasks could mean that there is pressure on nerves or vessels that could decrease blood flow to the appropriate areas. Chiropractic manipulation can help to realign the appropriate body parts to allow better nerve function and appropriate blood flow.