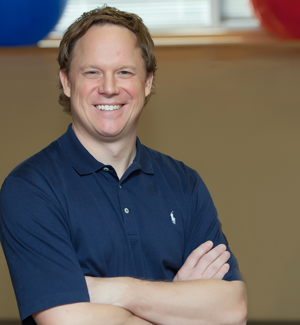 We like to answer questions from some of our readers and today we are going to address this question, "Dr. Riley, I sit at a desk all day and frequently suffer from low back and neck pain, with no apparent cause.  What are some things I can do to manage my symptoms?"
I've stated before that we live in a forward world; from the time we get up and sit at the breakfast table with arms out in front of us and heads down, to getting in our cars and sitting with arms in front of us, to sitting at a desk at work for eight hours a day, in front of the computer or on the phone.  All of this involves static or sedentary type positions and can result in what I refer to as "cumulative trauma."  This type of trauma is associated with lack of exercise and a sedentary lifestyle.   There are several things you can do while in the workplace to improve your low back and neck pain:
Ergonomics – we want you to make sure you have a chair at your desk that is neutral.  Your computer should be directly in front of you and your chair should be the type that offers some postural support.
Interrupt Your Sitting – sitting for an extended period of time can break down your posture and put a compressive load on your spine, joints and stabilizing structures resulting in inflammation.  Every 10 to 20 minutes, you should get up and move around.  This doesn't have to be totally disruptive to your work and you should move for just a minute.  That short minute can make a huge difference in alleviating your pain.  You can even do a search on Google for free timers for your computer that will remind you when you need to get up and move around.
Purchase a Lumbar Support – Postural supports are very beneficial in alleviating neck and back pain from sitting and here at the clinic we give our patients little beach balls that can be blown up to provide a comfortable lumbar support.
Therapies to Improve Neck & Back Pain Outside the Office
I frequently ask my patients what they do when they're not in the office and sadly, many of them tell me they don't do much.  If they tell me they're exercising, I'll ask what those exercises consist of.  All too often their answer is, "Oh, I do lots of bi's and tri's."  This is exactly what they should not be doing as it essentially reinforces the problems they are suffering from.
Because we are losing our ability to extend or go backwards, we need to focus on extension-type exercises.  This means opening up the chest and extending and stretching the mid-back.  Patients commonly make the mistake of moving primarily through their lower backs when they actually should be moving between the shoulder blades or mid-back areas.
Help for Headache Sufferers
Many people let their heads drop down while sitting and this can cause weakness or tightness in a particular area.  Your head weighs quite a bit and if you are in a flexed postural position, you are going to have tension throughout the neck area which can even involve the base of the skull.  If you have a muscle imbalance or if you're mechanically restricted in your spine, this might make you a good candidate for manipulation mobilization.  You may also need strengthening and stabilization exercises.  Sometimes it may involve a little bit of all of this combined, and our job is to turn on your stabilizing structures so your muscles work correctly throughout the day and you no longer suffer from resulting headaches.
Have a Question?
If you have a question you'd like answered, leave a comment below and we'll answer you directly or write a blog post about it.
Listen to the SpineFit Radio Podcast of this post
060413