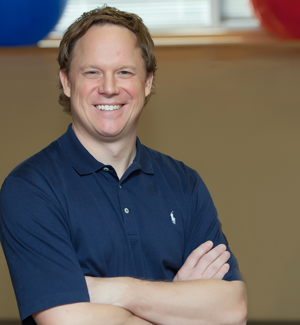 Dr. Riley, I have a job where I sit behind a desk and stare at a computer. Can you recommend two regions to focus on at the gym?
Probably the most common thing we see in the clinic are the folks who sit behind a desk all day long staring at a computer. Activity is the key. We always recommend exercise and encourage patients to get to the gym.
Focus on the mid thoracic region that area between your shoulder blades between your neck and your lower back and then your hips.
Focus on mobility. We live in such a forward world that we get up and sit at the breakfast table, we get in our car, then we go to our office and we sit in a chair behind a desk all day long.
I call it accumulative trauma.
Throughout the years that posture starts to affect you. I want to see how the mid back is moving. Nine times out of ten it just doesn't extend or move very well and we move too much in our lumbar spine, which creates disc irritation and mechanical lower back pain and other things. I want to work on extension in that mid back so foam rollers are great. Get on that foam roller and roll back and forth in that mid back area and increase the mobilization and increase your mobility and break down those adhesion's, that tightness and that will get you to extend it a little bit better.
Yoga is good for this. Extension throughout your mid back is the most important thing to focus on.
The second thing is hip mobility. We sit all day long in that 90-degree position and hip flexors have a tendency to shorten up and the glutes get really weak in the back so we have a tight or restriction in the front of the hip and we have weakness in the back and in the glute area.
We want to stretch our hip flexors and get them moving. Get down into a half kneeling position and move forward and feel a good stretch in the front of your hip capsule. You can lay over the side of your bed and let the leg hang and feel a good stretch in your quad and in your hip flexors.
If you'd like to ask Dr. Riley a question add a comment below.